Visqueen's air and vapour control layer system combines strength, flexibility and easy installation while exceeding current national fire safety regulations.
Visqueen, one of the UKs leading manufacturers and suppliers of damp proofing, structural waterproofing, and gas protection systems, has launched the latest addition to its fire protection range. Following the highly innovative and ground-breaking flexible non-combustible damp proof course and cavity tray system (Visqueen Zedex Non-Combustible DPC), the company has expanded its fire protection range by launching Visqueen Class B FR Vapour Check, an air and vapour control layer (AVCL).The complete AVCL system, including fixing and jointing tapes, achieves fire classification Class B – s1, d0 to EN 13501-1:2018 as well as zero air leakage to BS EN 1026:2016 when tested by third party independent laboratories Warringtonfire and the British Board of Agrément respectively.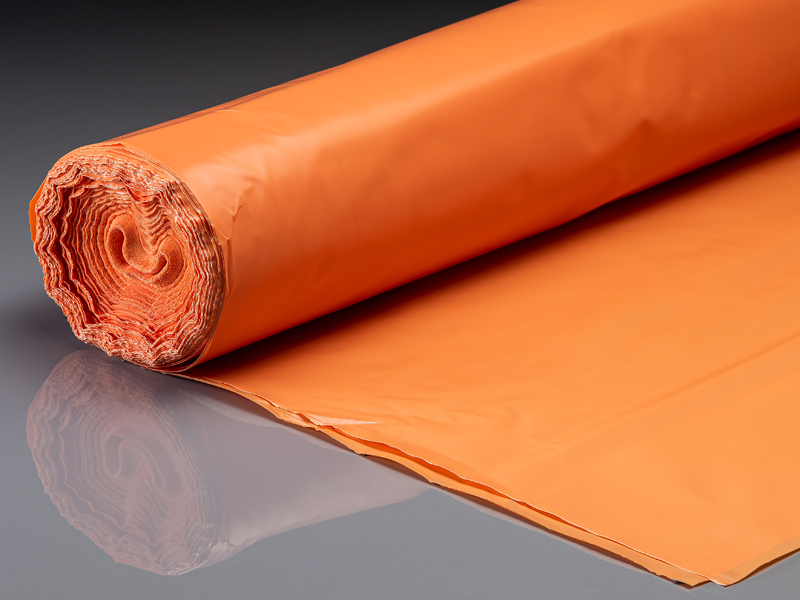 Semi-transparent for ease of installation and orange tinted for ease of recognition, the new AVCL is a fire-resistant polyethylene for use in all buildings including residential over 18m high where an AVCL is required within the floor, wall and roof constructions. It reduces the risk of interstitial condensation occurring within the structure as well as improving the airtightness of the building.
Key to the design of the Class B FR Vapour Check was to develop a flexible solution that is much easier to apply and detail. The 0.125mm thick (500 gauge) AVCL is available in convenient centre-folded rolls of 2.45 metres x 50 metres and multi-folded rolls of 4 metres x 50 metres. The 2.45-metre-wide rolls are ideal for wall applications enabling easier transportation and rapid installation, all while reducing the need for horizontal lap joints. The Class B FR Vapour Check has the UKCA UKNI Mark to EN 13984:2013, meeting both Building Regulation Approved Document B and warranty provider requirements.
Fire protection is integral to today's building regulations and our new Class B FR Vapour Check meets the building industry's demands for an effective solution that can be easily applied across a wide range of different builds," said Phil Bull, Visqueen's General Manager.
Its combination of fire-resistance, air tightness performance, water vapour resistance and reduction in the risk of interstitial condensation, together with its excellent puncture and tensile strength characteristics, make it an ideal AVCL especially for residential buildings."